The Freiburger Family Card includes discounts for families in municipal and private (mostly cultural) institutions.
Families whose income does not exceed the limit for housing allowance or unemployment pay / social welfare, can receive the Family Card for one calender year for free. All other families pay for the Family Card a yearly amount of 30 €.
We are official application and emission center of the Family Card. For registration, please call 0761-27 20 51.
More information on the Freiburger Family Card at: http://www.fbff.de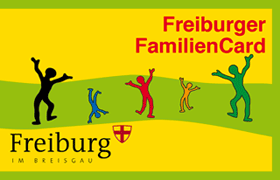 Merken
Merken